2020 Social Media Essentials: Facebook & Instagram
by

Molly Greenwald
in Blog
July 20, 2020
The world of social media marketing is ever-evolving, with new features and updates introduced by platforms regularly. To make the most of your digital marketing efforts, it's important to stay in-the-know with current trends and to make informed decisions while implementing a social campaign. 
Enlisting the services of an online marketing agency, like KME.digital, will maximize your brand's potential. Our highly-experienced team specializes in SEO, social media management, web development, and more to meet your digital marketing goals. Integrating the latest industry knowledge, KME.digital works with a diverse range of clients in the Washington D.C. area to grow their target audience by boosting traffic and capturing leads.
Here are Facebook and Instagram's top features, formats, and trends for social marketers to get familiar with: 
Facebook
Groups
Facebook has worked hard to promote this community-driven feature recently, and even chose to highlight Groups in its first ever superbowl ad in 2019. Since 2017, Groups has been open to brands and publishers and provides a suite of settings and tools for Groups creators to utilize. 
Facebook rolled out Watch Party for Groups in 2018, which allows multiple users to watch and comment on the same video simultaneously. Groups using Watch Party have seen high engagement; uses for marketers include Q&A's, behind-the-scenes, tips and tricks, and demonstration videos. 
As Facebook continued its push to promote Groups with a redesign and a list of new features, it experienced immense growth in the past year. Groups helps users discover more relevant content and creates a personalized activity feed for them. Its discovery tool also allows users to find other groups that may be of interest. The Facebook Groups feature offers an opportunity for brands interested in growing their community through direct engagement with followers and greater exposure on the app. 
Messenger Ads
While this ad product has been around for a few years, Messenger ads are only growing in value due to a series of recent upgrades and improvements. The ad will appear in the user's Chats tab in Messenger and comes with a call-to-action sending them to the destination of your choice. For greater efficiency, marketers can also use the same creative content for Messenger that they currently use for Facebook and Instagram.
Click to Messenger Ads
Another way Facebook allows advertisers to incorporate convenient, one-to-one communication with their audience is through Click to Messenger ads. These ads use Facebook Stories for users to start conversations with your brand in Messenger. The user can swipe up on a Stories ad with the call to action "Send Message" and engage with your business without leaving the app. 
Instant Experience Ads
Instant Experience ads are immersive ads that are mobile-friendly, fast-loading, and media-rich. 
They capture the attention of your audience with engaging content like photos and videos, carousels, and lifestyle images with product tags. The Instant Form template allows you to collect contact information from users interacting with your ad without requiring them to leave the app. 
Additionally, by utilizing Facebook Pixel along with embedded third-party pixels in your Instant Experience ad, you can effectively track campaign performance and re-engage with site visitors that interacted with your ad. 
Dynamic Ad Formats
One of Facebook's newest formats for marketers, Dynamic Ads allows you to create personalized content with limited time and resources. Facebook's machine learning model can personalize your ad's creative and format for every user based on their responsiveness to certain types of ads. You may use this format for any campaign with objectives set for catalog sales, traffic, and conversions. 
Creator Studio
Originally launched in 2018, Facebook's Creator Studio is a centralized hub for creators and publishers to create and manage video content. It also provides audience insights such as follower metrics, returning viewers, and time watched. 
Instagram posts and IGTV can be managed from Creator Studio as well, allowing marketers to schedule, post, monetize, and measure content across platforms. 
Instagram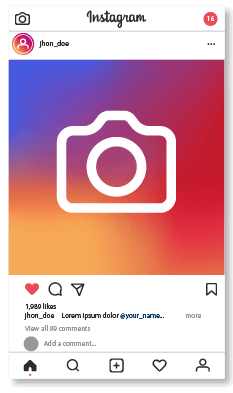 Story ads
According to a 2019 report by the social media marketing firm Socialbakers, ad spend on Instagram Story Ads jumped 70% in Q3 from a year earlier. It is an extremely popular format, with 500 million accounts using Stories on Instagram. 
In October 2019, Instagram announced it would make way for more ads on Stories and started experimenting with back-to-back ads within a Story. As Instagram Stories continue to generate more activity, marketers should get familiar with this ad format and focus on creativity to differentiate themselves from competitors. 
Shoppable posts
Shoppable posts allow users to interact with online retailers and make purchases directly from content on their feed or Story, without having to leave Instagram. By creating a Facebook Shop account that's linked to your Instagram, you can tag products in your images with details and pricing. This allows you to creatively showcase products while providing an easy way for customers to learn more and purchase all in one place. 
IGTV
IGTV was launched in 2018 for users to watch and create long-form video content published permanently to your profile, unlike Stories which disappear after 24-hours. Usually in a vertical format, they have an immersive feel similar to Stories, but they offer a much longer recording time up to an hour-long. 
IGTV can be incorporated by marketers in a variety of ways, including tutorials to highlight product features, repurposing previous video content, or hosting a weekly or monthly "show" to increase audience loyalty. 
Grow your Brand with an Online Marketing Agency in the Washington DC area!
The list of trending features and formats above indicates the ever-evolving nature of social media. This can pose a challenge for businesses looking to utilize social media to grow their audience. KME.digital is a top online marketing agency in Washington D.C. with years of experience developing social media campaigns that drive engagement and make brands stand out online. Our Social Media Experts stay up-to-date with the latest industry trends to create the most engaging and effective content for your brand. 
Contact us at (703) 585-3321 to learn more about our services and start growing your business today!