Domain authority (DA) may sound like an ambiguous buzzword, but it's a substantial—and critical—metric to follow. Combining a diverse array of measurements that Google assigns to websites, DA boils down a website's performance in search results to a deceptively simple number. And while many factors influence search engine optimization (SEO), DA outweighs most of them. Website owners must learn what domain authority is, how it works, and how they can use it to their advantage. Moreover, one of the best digital marketing agencies in the area can help boost their website's DA.
KME.digital is an all-in-one digital marketing agency in Northern Virginia that offers in-house expertise. Our digital services range from SEO to pay-per-click (PPC) management, marketing automation, content generation, web development, and more. On top of that, we provide industry-leading experience, custom reporting, and complete transparency. Call (703) 585-3321 and work with a real team of digital marketers at KME.
Below, we define domain authority further, explain how it works, and reveal how you can boost your website's score:
What Is Domain Authority?
Domain authority is a metric that quantifies the perceived trustworthiness of a website and, therefore, its ability to rank high in search engine results pages (SERPs). Assigned scores fall between 0 and 100, wherein higher scores have a better chance of ranking well.
If you'd like to check your website's DA, you can find it at Moz's Domain Authority Checker, Semrush's Domain Overview Tool, Ahref's Website Authority Checker, and many other online resources. Although Moz's domain authority is the most widely used metric, Semrush's authority score and Ahref's domain rating offer distinct insights. Each score is determined using unique calculation methods and can thus vary significantly.
You can look up each of these scores to compare and contrast your website's performance through different models, but remember that the most impactful determinant of DA (or other metrics) is the quality of inbound links—also known as backlinks—directing to your site.
How Does Domain Authority Work?
In Google's eyes, a strong DA score on one website rubs off on affiliates. Therefore, if a website with high DA backlinks to your website, their good score extends credibility to your domain, and you may receive a boost in domain authority relative to theirs. Furthermore, since backlinks are the most significant indicator of domain authority, off-site strategies—like link building—are the primary ways to boost your DA score.
Nonetheless, rather than an explicit metric—such as the core web vitals used by Google's search engine—DA is an arbitrary aggregate of relevant factors. In other words, it's a distinct metric through which you can better understand your site's rankability. Although there's a positive correlation between DA and SEO performance, DA is by no means a conclusive indicator of your site's ability to outrank other websites. Publishing unique, comprehensive, human, and helpful content will help your website outrank competitors with a higher DA in the SERPs.
How to Boost Your Domain Authority Score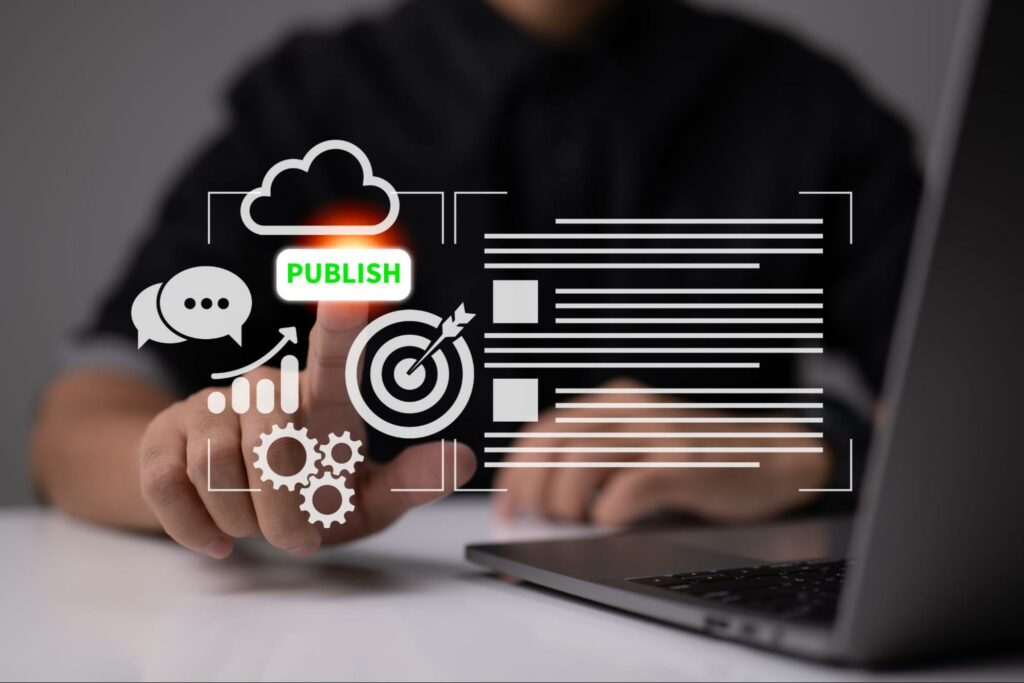 First and foremost, develop a strong content strategy. Think blogs, eBooks, webinars, podcasts, and more: publish valuable information about your niche and optimize it with target keywords, metadata, alt text, outbound links, and more. The goal is to distinguish yourself as a thought leader in your field, gain backlinks, increase your DA, and thus boost your SEO. Promote content on social media channels too.
Also, consider guest posting on other websites, especially if they have high domain authority. Although link building can be arduous, the healthy connections it provides to other websites in your industry will pay dividends. In the future, those high DA sites can link back to yours. You'll gain credibility among leaders in your industry as well as the Google algorithm.
Also, "dofollow" backlinks—and off-site signals, like brand mentions—from high DA news publications will boost your DA. Online directories—including Yelp and Google Business Profile—can be a direct, cost-effective way for local, small businesses to build awareness and DA benefits.
However, website owners should also learn Google's link-building prohibitions and penalties. So-called "black-hat" strategies—such as excessive link swapping, paying for backlinks, and other discouraged practices—come with severe penalties for offenders. Accounts flagged for suspicious activities may be suspended or limited.
Work with the Best Digital Marketing Agency in Virginia
KME.digital has earned its reputation as one of the best digital marketing agencies in Virginia by producing outstanding results for our clients time and time again. Whether boosting domain authority, increasing SERP rankings, building traffic, or increasing conversions, we make a difference where it matters. For help with domain authority and more, contact us online or at (703) 585-3321 today.