In early November, KME participated in a virtual Diversity, Equity, and Inclusion (DEI) information-sharing session with Dr. Carmen Phelps of Project 986 Consulting. Project 986 Consulting offers a variety of personalized DEI consultation and training services tailored to each organization they work with.
"Where larger firms adopt "one size fits all" models to DEI consulting, we focus on relationship-building and prioritize your unique brand and mission, while customizing our approach to DEI assessment processes, planning, coaching, curriculum design, training, resource development, and dialogue facilitation to help your organization's long-term growth, success, and development in changing cultural, national and global climates." 
Dr. Phelps took our team through key topics surrounding DEI principles and challenges within representative organizations and business cultures and discussed the impact they have on individuals and how addressing these topics may be useful for business success.
Our team found the presentation material concerning removing barriers especially powerful. Even though our session was an hour-long, as most of Dr. Phelps's sessions last several hours, our team was engaged and discussed how these concepts might relate to their personal and professional lives. Some of our team members shared that "It was a good reminder of the value of empathy and awareness of differences", and that the session was "educational, engaging, and thought-provoking".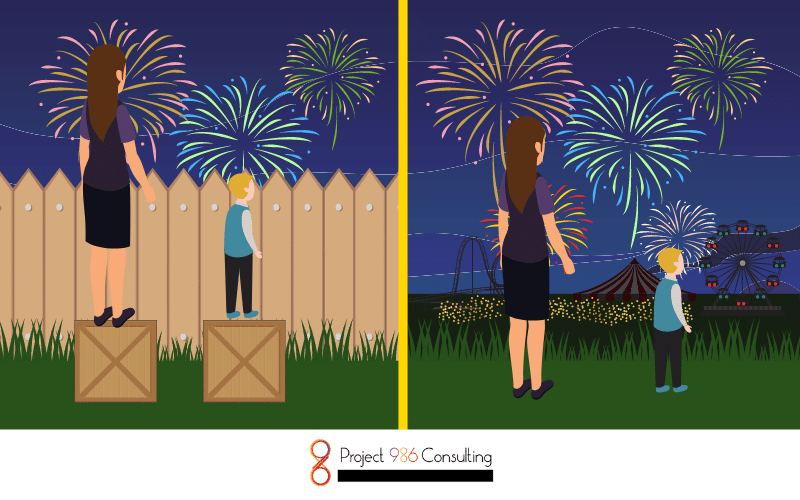 Dr. Phelps explained that everything that's equal doesn't necessarily mean it's fair. This common illustration above shows that concept. However, Dr. Phelps took things a step further by pointing out the fence in the graphic and mentioned that the fence might actually be removed, challenging us to be on the lookout for barriers and identify ways to address them.
A company's ability to achieve success goes hand in hand with its ability to attract the highest level of talent in order to reach and serve all communities, markets, clients, etc. Project 986 Consulting believes that investing in DEI training and consulting can also strengthen your ability to build your brand, serve diverse populations, and increase growth potential in business environments that are constantly changing. 
Contact Project 986 Consulting to receive a free DEI consultation today to learn more about different training options for your business!