If your team is looking for ways to grow, connect, and deliver outstanding customer experiences, HubSpot is your best solution. HubSpot is a customer relationship management (CRM) platform that helps organizations attract and maintain strong customer connections. With HubSpot, businesses can understand and enhance their buyers' journey. HubSpot, alongside an inbound marketing service provider, can spur your company's growth into the stratosphere.
KME.digital is Virginia's top digital marketing service working with companies across various industries and of all sizes. We assist organizations in the Arlington, VA, area with search engine optimization (SEO), web development, paid advertising, and more. Moreover, we've been delivering custom digital marketing solutions that work since 2005. Contact us at (703) 585-3321 to discuss your branding strategy.
Below, we discuss how your company can leverage HubSpot & drive growth:
The Benefits of HubSpot
Developing your brand requires a lot of thought. After all, the most successful businesses interact with their clients through numerous channels and mediums. Nevertheless, you need strategies that will work for your company and its unique marketing demands. 
HubSpot's platform offers marketing, sales, customer service, content management, and operations software and skills training. Its functions are cohesive and customizable, which allows users to hone in on specific aspects of their marketing strategies and take stock of the overall picture. Nevertheless, KME helps businesses interpret HubSpot's data and leverage its functionality.
Crafted for Customer Experience
Customers drive businesses. A customer's journey—especially on your website—through your business's offerings is of the utmost importance. Places like HubSpot help you and your company improve customer experiences.
Supported by KME's cohesive services—such as marketing automation software and email marketing training—your team can adapt, align, and adopt these novel functionalities. HubSpot takes the core elements of customer experience management and puts them into one unified base that is accessible and user-friendly.
Understand the Buyer's Journey
It is integral to understand that the buyer's journey is a complex one. Every business wants to turn prospects into brand advocates and loyal customers. With HubSpot, you can learn about the flywheel business model, which places customer needs first.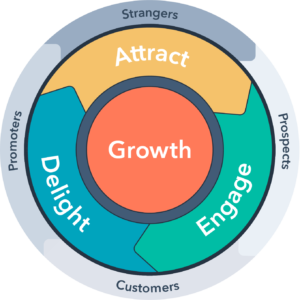 Attracting, engaging, and delighting customers are often top priorities. Satisfied customers ensure business growth and success. Fueling the flywheel is what all businesses strive to do—HubSpot can give you the extra push you need to get there.
Your Inbound Marketing Service in Arlington, VA!
Preparing your business to grow can take time. Abundant programs and services for digital marketing strategies exist, but having a professional team behind you can propel your growth. Here at KME.digital, we are committed to supporting clients in the Arlington, VA, area by developing their digital presence through SEO, advertising, web development, and more! Our inbound marketing service is a certified Great Place to Work that provides effective marketing strategies and services for diverse industries. Contact us at (703) 585-3321 to discuss your marketing strategy.