Student-led Digital Social Startup A-List Empire – a STEAM Meetup in Chantilly, VA, Oct. 17th – by WestXDC Digital Professionals, at TriVision Creative Studios
The West by DC (WestXDC) Digital Professionals in Northern Virginia Meetup Group presents a local STEAM (science, technology, engineering, arts and math) initiative underway called "A-List Empire", led by Fairfax and Loudoun-area students, staff and supporters (including local celebrities, Digital IT SMEs and a Hollywood filmmaker) of Education Online Learning (EOL).
Saturday, October 17th, 11AM-1PM (2 Hours)
TriVision Creative Events Center
3856 Dulles S Ct, Chantilly, VA 20151 (4 miles west of Rt. 28/Rt. 50 interchange)
Light Snacks provided; free parking
Space is Limited – Reserve Your Attendance Here – or contact us here for questions (or if you don't want to join Meetup.com)

.
The Meetup Agenda is as follows:
WestXDC Digital Professionals – introduction and group feedback, by KME.Digital
A-List Empire – student-led social creative web platform; demo and STEAM panel discussion
TriVision Creative – digital multi-media production demos and discussion

A-List Empire is a social media platform being designed to allow users to work collaboratively to create their own TV shows, movies, songs, books, photo albums and live-stream performances. A-List Empire differs from other social media websites in that the tools for content creation exist on the site and a collaborative environment is provided so that people with different talents can work together on a common production.
A-List Empire represents a joint venture between Education Online, Inc., an educational software company that is providing technical support and hosting services and MyEdMaster, LLC, a tutoring company that is supplying student talent to work on product requirements, content creation, and supplementary software development. A-List is a product that was conceived by Education Online/MyEdMaster founder, Dr. John Leddo and is energized by the social creativity of the participating middle school, high school, and college students.
A-List Empire is a prime example of the blending of the arts and STEM education. Through project supplied mentors that include businessmen, project managers, technology experts, and a Hollywood filmmaker, students are learning how to improve their STEM skills while learning how to meld art and technology into a commercial product. The project mirrors how Hollywood combines art and technology as students with diverse talents are brought together to create an actual product. Because the goal of A-List Empire is to create an actual product, this project represents a valuable addition to the STEAM teaching approach since it gives students a practical application to combine art and STEM under the guidance of real world professionals. A-List Empire is intended to become a role model for other STEAM projects in Northern Virginia and the US.
Education Online offers revolutionary artificial intelligence-based online tutoring software that allows students to practice solving SAT and PSAT Math and English (Reading and Writing) problems and questions to improve their skills and then take timed practice tests to measure their improvement. The 24×7 test preparation tutoring software provides the personalized coaching of a private tutor, at extremely low pricing. This technology has been tested extensively in schools and school districts, and in each case produced large educational gains in students. Robert Griffin III's 'Family Of 3' Foundation recently agreed to help provide this SAT Prep Program for free, to targeted national and local high school districts.

This meetup and panel discussion is hosted by KME.Digital (KME), the area's leading digital marketing agency, and the TriVision Events Center (TriVision), in Chantilly VA (on Rt. 50, just west of Rt. 28). TriVision is one of the DC area's leading creative design, branding and media production agencies, working closely with KME to deliver comprehensive, integrated digital marketing, branding & technology strategies for many DC-area, national and international customers – commercial, nonprofit, public sector and startups.
TriVision will also be showcasing some of its latest projects and digital media production services, plus answering questions about the digital production industry in general.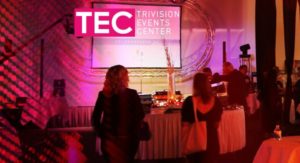 The TriVision Studios Media Production Studio & Events Facility is Northern Virginia's largest and most versatile production studio, encompassing over 12,000 square feet of flexible, high-tech and professionally-supported indoor space. Located near the Dulles International Airport and Technology Corridor, TriVision provides easy access to and from Washington DC and all Northern Virginia centers (including Reston/Herndon, Leesburg, Manassas, Fairfax and Arlington), and is easily accessible to all of the area's major companies, organizations and government agencies. This heavily-equipped and fully-staffed studio is the ideal place for all types of multimedia productions, performances, and studio equipment rentals. The modern and expansive space makes the studio equally conducive for hosting seminars, filming interviews, hosting product launches, making training and marketing videos, music videos and other complex audio and video productions.
Speakers:
Dr. John Leddo | Educational Psychologist; CEO/Founder of Education Online and MyEdMaster
Ted McLaughlan | KME.Digital/WestXDC Co-Founder; Oracle Enterprise Strategist/Digital Engagement; NVTC/Loudoun EDAC/SBDC
Tabasum Lutfi  |  TriVision Creative Studios, VP/Director of Operations