5 PR & Marketing Questions – To Increase B2G PWin for GovCon Sales, Capture & BD
Marketing to the government is difficult, by design. The taxpayer's money must be spent very carefully.  Working through acquisition strategy, market research, bid preparation – government procurement teams need to maintain objectivity and compliance alignment,  yet cast the widest possible net for cost-effective solution options to their needs. Selling to these folks isn't at all a commercial B2B or B2B exercise – but basic marketing tenets do still apply, with B2G flavoring.
As an external, data-driven digital marketing team, KME.digital has interacted with the internal marketing, PR & communications teams of many GovCon (government contracting) companies pursuing government contracts. We routinely observe 5 very common, persistent gaps between Sales or Growth Team expectations, and Marketing Team results. These gaps are usually traceable back to annual marketing & PR budget requests, that are missing critical requirements from the Sales Team.
These gaps also exist with commercial businesses, all the time – but are truly widespread and stubbornly persistent in the GovCon community.
Community Announcement – If you're looking for a Northern Virginia GovCon community, event and/or like-minded B2G government contracting professionals – check out the Reston Chamber of Commerce GovCon B2G Professional Group and Events.
Answers to the following 5 critical questions relating to marketing & PR can close these gaps, improving GovCon PWin (i.e. "probability of a competitive government contract win"). Our answers here are short and direct – contact us for much more information and support about these critical topics. We can help.
Question 1: "Can my company's website be updated, to support my GovCon sales pipeline?"
This question seems simple – but is always difficult within any B2G company over 100 employees, which has been around a while, and also sells outside of government to other companies or consumers. Your website is your best landing page, you need flexible control of it. It needs many types of search, inbound and outbound marketing updates, not just branding. If you can't update it to keep pace with your sales process, aligned to government acquisition lifecycles and buying patterns, PWin is reduced.
Question 2: "Are the target government agency and procurement stakeholders – my customers – seeing my marketing messaging"?
Seems like a straightforward, ROI-driven question – but you're likely not getting the answer you need at all.  It's pervasive, an age-old "PR vs. marketing" conundrum. The answer you get shouldn't depend on words like "impressions", "likes", and "emails opened", but should include words (with numbers) like "engagement", "conversions" and "leads". Engagement with the procurement team and influencers, Primes and vendors, subject matter experts, authorities and analysts is all critical to PWin. It absolutely can be tracked and focused using data and analytics, across all channels and media types. If the answer is "Yes" though, the quick follow-up is "how do we know", "where", and "is it working"?
Question 3: "Does social media work, with government customers and the GovCon community?"
It certainly can, and does, if approached methodically, and carefully. And not so much things like Instagram, Snapchat and TikTok. Government employees and procurement teams and stakeholders are busy. That doesn't mean they don't use public social media, just about everyone does. Useful, non-commercial and informed subject matter, insights and verified expertise is best, within trusted online communities, targeted by professional demographics or locations. LinkedIn, Twitter, YouTube are typically most useful.
However, these workers consume digital media in many other formats, via many other channels. LinkedIn isn't the only place to find eyeballs. Over a day-in-the-life, a government worker's digital interaction opportunities may include:
Morning online news, weather, social community scan, texting, email check, voice search;
Commute to work radio/streaming, podcast, mobile map app, app/email notifications, magazine/document format reading (not driving!);
At location professional social media dialog, web research & browsing, email dialog, long-form media consumption, webinars;
On break personal app use, social media dialog, texting;
At different or retail, event location app use, social media scans, texting;
Commute home radio, podcast, mobile apps & notifications; and finally
Evening entertainment, work, education – online search, digital media/streaming.
The point is, social media campaigns will reach and may influence your target customers and their influencers, if done right.  However, consider all available channels (though careful publisher selections): social media marketing & outreach, geofencing/mobile ads, geo-targeting, email, search ads, video ads, email, native advertising, influencer marketing, organic and paid media placement. There are many cost-effective options, offering proof of ROI – choose those. Contact us for advice here, for example when to use GovCon geofencing vs. geo-location targeting. Both good, but for different goals.
Question 4: "When is the marketing or outreach campaign scheduled, is there a publishing calendar aligned with our sales & capture events"?
This can be critical, and essentially should get started as soon as possible. The Shipley Business Development Process Guide, for example, indicates marketing campaign decisions should take place as Federal customers are just beginning to identify their needs. The following illustration (using this Guide) depicts company branding and community engagement that should actually be happening before that, to nurture competitive market positioning and Agency awareness. Contact us to discuss this in much more detail, including our KME GovConWin Quick Start Package.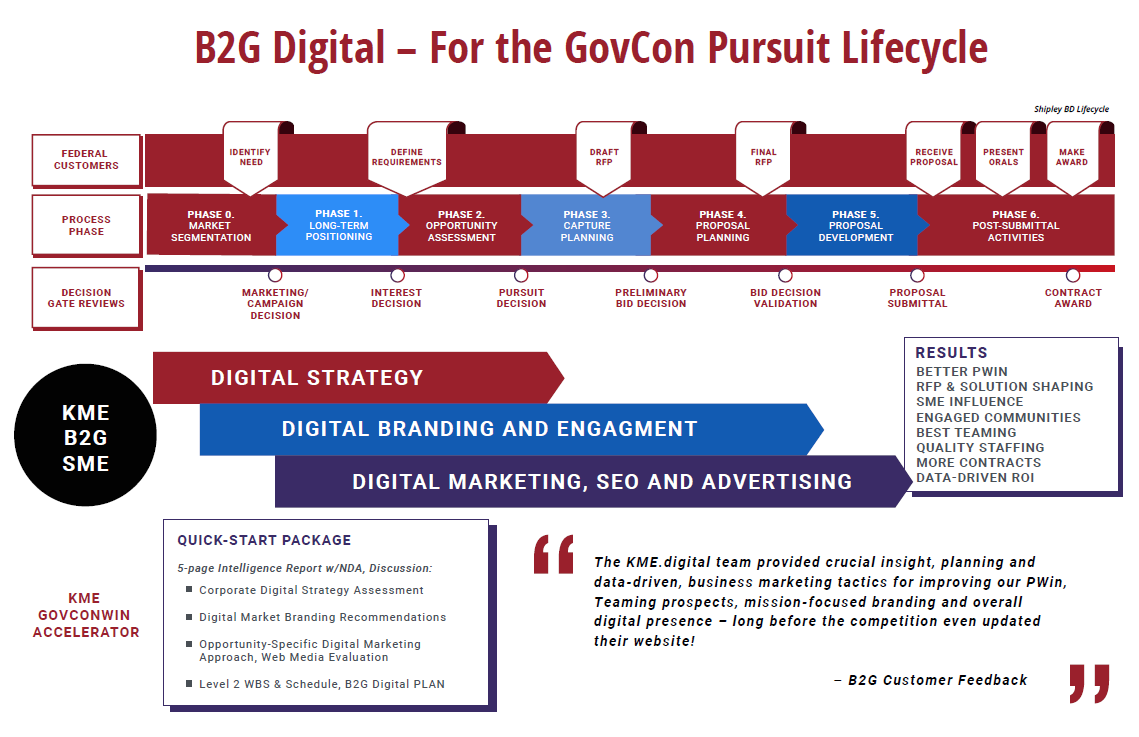 Content publishing schedules are very different, too, between channels, by media type, by procurement stage, and should take into account  your own company's internal approval process and publishing workstreams. Which are usually NOT yet tailored to the mix of marketing channels, capture milestones and audience targets you really need. Which leads us to this last question.
Question 5:  "Who can help around my company, with government marketing – can I help?"
The answer is everyone in the company can help – sales, growth, capture, PR, marketing, communications, solutioning, and everyone else. Two things can make a difference, however. First is a corporate communications and social media policy, that's current, easy to understand, and gives examples. Most larger companies have this, but it doesn't get updated much. Second is a "Digital Engagement Guide". This is actually more critical than it seems – it's guidance for you and all company stakeholders and partners, regarding how to most effectively, voluntarily support B2G PR & marketing strategies or campaigns. We've actually done this for the government, for G2C/G2G purposes as well!
Go ahead and post your own perspective about solutions for your customer – but what helps the team and your customer, is some thoughtfulness and consistency in keywords, hashtags, backlinks, timing, event synchronization, media use and value to the community.  This goes not only for GovCon employees, but for teaming partners, subs and vendors you're working with. Don't forget the press/analyst/influencer community, whom you can direct to your online digital press kit (which you'll need to create!).
GovCons, Your Call to Action
5 quick questions, 5 short answers – but decades worth of wisdom is summarized here, with tips to getting started increasing your PWin through B2G GovCon sales, marketing, PR and communications alignment and cooperation.
GovCon marketing & PR teams, growth teams, sales/BD/capture professionals – contact us for more insight, use cases and help in moving forward.
More Resources
Along with our unique B2G government digital marketing expertise, additional recommended resources follow, to improve that PWin: