SEO Wars – Enter #B2G GovCon BD, Capture & Sales Digital Marketing
Most GovCon companies understand there's a good deal of marketing and branding necessary, to set the market space and attract attention from both the Government and Primes doing market research, looking for your goods and services. We find that the "marketing" aspects of the Shipley business development lifecycle / capture management process, are typically under-served and avoid clear focus on digital marketing. To be more specific, the "Marketing/Campaign Decision" process is usually too late, under-developed and not digital enough for today's more agile procurement environment.
This generally has to do with the longer and more complex Federal acquisition and procurement cycles, paired with accelerating FAR compliance and information-sharing limitations as the bid grows near.  It also has to do with the legacy cadre of govcon BD, sales and capture managers, who have fully accepted the role of digital marketing in B2G visibility, capability showcase and procurement community market research.
This is the time to change.  The cart below reflects a recent digital volley we fired across the bow of a competitive B2G marketplace, supporting a particular client.  Within the week, we launched and rained down a storm of keywords, bids, content, buzz, you name it – in this GovCon capability sector – and now the real fun begins.  The competition should have noticed as we displaced all their SERPs, decreased their visibility in favor of our own, sucked away inbound traffic and leads, and generally disrupted their same 'ol same 'ol year-long, legacy government contracting marketing campaign.  Certainly the government will notice, as they research the space for new and current suppliers for FY21 budgets (presuming no government shut-down), starting with the Internet, their trusted advisors and analysts, industry trends, etc.
Our customer in green, launching a 100% improvement in overall visibility against the competition…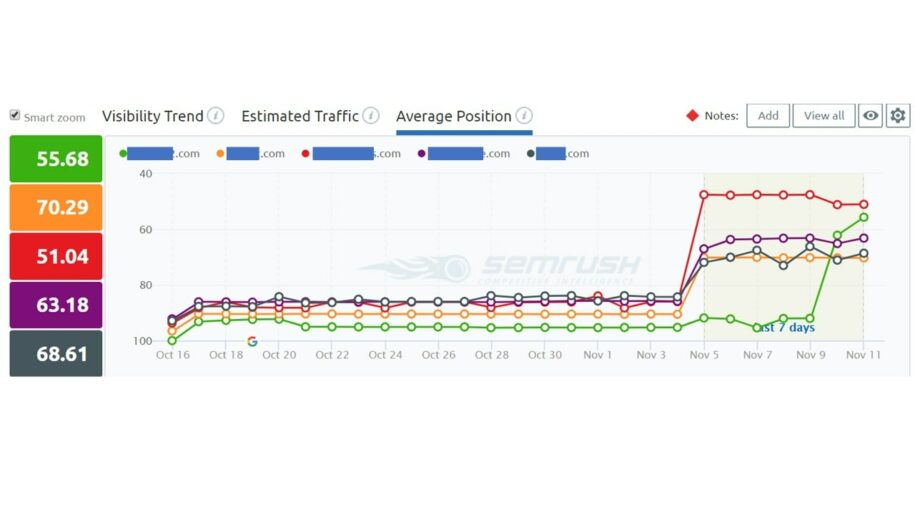 Call us today to talk about your GovCon B2G BD, Sales & Digital Marketing/SEO strategy, among all the industries we serve.